Usain Bolt's first sport was cricket and he specialized as a fast bowler.
Usain Bolt is a fan of Christiano Ronaldo and therefore he had offered him some sprinting tips. Ronaldo himself was delighted with the offer as he is a big fan of Bolt too.
Usain Bolt is the youngest ever gold medalist of the World Junior Championship, wins the 200m at age of 15.
Usain Bolt is the first and the only junior athlete to break sub 20 seconds in 200 meters.
Usain Bolt is nicknamed as 'Lightning Bolt' due to TWO reasons: firstly due to his extraordinary performance and secondly due to his 100 meters world record which set just after the lightning storm in New York in 2008.
Usain Bolt became the first to holds the World records, World Championship records and Olympic Games records at all-three sprint events (100 , 200 and 4×100) at the same time.
Usain Bolt's first Olympics were at 2004 where he was eliminated in the first round of the 200 metres with an upset time of 21.05 due to an injury.
 Usain Bolt improved his annual 100m time from 10.03 to 9.69s at Beijing Olympics where he set not only without a favorable wind (0.0ms) and a slow reaction time (0.165s) but also with a celebration at the last 20 metres which significantly slowed him down and his shoelace was untied.
Bolt partnered with a company called RockLive to make mobile gaming app centered all around him. It's creatively named "Bolt!" It's the number one app in Jamaica and the number two free app in the UK.
Usain Bolt has made $20.3 million over the past year in prize money, bonuses, appearance fees, and endorsements. That amount made him the 63rd highest paid athlete in the world.
Companies Usain Bolt has an endorsement deal with: Gatorade, Hublot, Virgin Media, Visa, Soul Electronics, Nissan Motors, and his biggest sponsor who has been with him the longest, Puma.
He's the highest-paid athlete in the history of sprinters.
Usain Bolt set a world record for the 100m in the men's final at the 2008 Beijing Olympics. AFTER having a meal of chicken nuggets.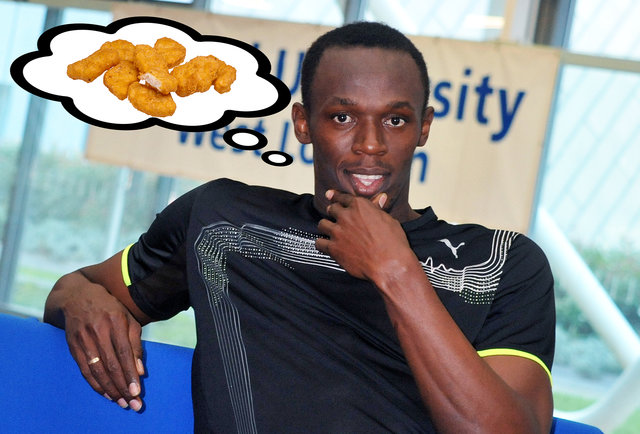 He signed a deal with Soul Electronics to create his own headphone line. He also has his own clothing line and his own restaurant that he owns and operated in Jamaica.
His victory stance is basically the Tabooing of the Olympics. It even has its own name. It's called the "To Di World" pose.
<di v> 
He is 6 ft 5 inches in height – very tall for the average sprinter.
Bolt can run at a speed of about 23.7 mph.
He owns his own restaurant / sports bar called Tracks & Records.
SportsPro Magazine named Bolt the "most-marketable sportsman on the planet" in its second annual ranking of the world's 50 most-marketable athletes.